The capital city of Queensland, Brisbane, is also known as the Sunshine State, as it's sunny all year round. With great weather, friendly locals, and amazing attractions, it's a tourist hotspot. Don't know where to begin? Pay a visit to one of these Brisbane attractions and you'll see why Brisbane is worth a visit!
1. Lone Pine Koala Sanctuary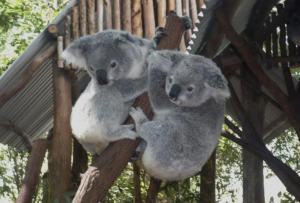 One of the most popular Brisbane attractions, a visit to Brisbane is not complete if you don't visit the Lone Pine Koala Sanctuary. Besides koala bears, this place is also home to other Australian animals such as kangaroos, wombats, wallabies, and more. Capture those memories and bring back a photo of you holding a koala as a souvenir! It's an experience you'll never want to forget!
Address: 708 Jesmond Rd, Fig Tree Pocket QLD 4069, Australia
Opening Hours: 9:00am–5:00pm
2. Mount Coot-tha Lookout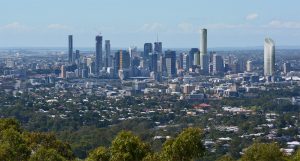 Mount Coot-tha is the highest peak in the city of Brisbane and a prominent landmark that's visible from the city. The Lookout on Mount Coot-tha is a popular place for tourists to capture a stunning panoramic view of the city. If you love nature, there are a couple of bushwalks nearby the Lookout. Not up for strenuous activities? Pack some food and have a picnic! Mount Coot-tha has a number of picnic spots, all equipped with a gas barbecue.
Address: 1012 Sir Samuel Griffith Dr, Toowong QLD 4066, Australia
Opening Hours: Open 24 hours
3. Museum of Brisbane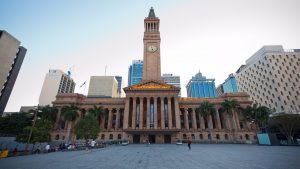 If you're more of an indoor person, the Museum of Brisbane is the perfect place for you. This museum is located on the top floor of Brisbane's premier heritage building, City Hall. Discover Brisbane's history and rich culture through this museum's exhibitions, tours, talks and more. On top of that, you can also experience a magnificent view of Brisbane from the museum's iconic clock tower.
Address: City Hall, 64 Adelaide St, Brisbane City QLD 4000, Australia
Opening Hours: 10:00am–5:00pm
4. Streets Beach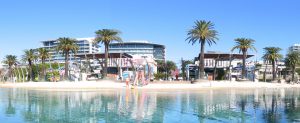 Experience one of Brisbane's top attractions, Streets Beach. Not just any regular beach, Streets Beach is a man-made beach within the South Bank Parklands. The crystal clear azure waters of the beach are a welcoming sight on sunny days, but it's not actually seawater – it's chlorinated water. The white sandy beach and the palm trees surrounded by the towering skyscrapers of Brisbane truly makes this an experience like no other.
Address: Stanley St Plaza, South Brisbane QLD 4101, Australia
Opening Hours: 6:00am–12:00am
5. Moreton Island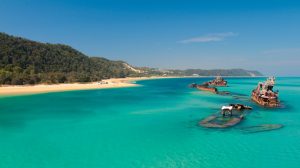 If you want the real deal, then take a day trip to Moreton Island, the third largest sand island in the world. It's about a 75-minute ferry ride from the Brisbane city. Here, you'll be able to feed wild dolphins, snorkel around the Tangalooma shipwrecks, go sand tobogganing, and more! There are so many exciting activities at Moreton Island, you'll be in for a day of endless fun. It's also a great place to just relax and soak up the sun rays.
Address: Moreton Island QLD 4025, Australia
6. Story Bridge Adventure Climb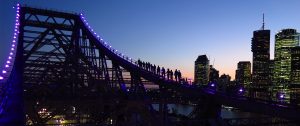 Story Bridge is a popular landmark in Brisbane, but there's also more to do than just sightseeing. Embark on a thrilling Adventure Climb from one side of Story Bridge to the other – the Story Bridge Adventure Climb is definitely not for the fainthearted. Choose to climb at dawn, day, twilight, or even night! Enjoy the amazing 360º panoramic views of Brisbane city, there's even a choice for you to abseil for the descent; it's a truly unique experience only available at Story Bridge.
Address: State Route 15, New Farm QLD 4169, Australia
Opening Hours: Varies daily, call +61 (7) 3188 9070 for enquiries
7. Queensland Art Gallery & Gallery of Modern Art (QAGOMA)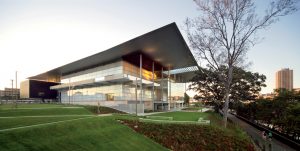 The arts scene in Brisbane is thriving, with the Queensland Art Gallery & Gallery of Modern Art (QAGOMA) holding over 17,000 artwork. This includes historical, modern, and contemporary art from artists all around the world. QAGOMA also houses a Children's Art Centre, perfect for the young ones to cultivate their love for art. Take a stroll through the art galleries and be inspired by the provoking art.
Address: Stanley Place, South Brisbane, Brisbane, Queensland, Australia
Opening Hours: 10:00am–5:00pm
7 Popular Brisbane Attractions That Tourists Love