A lot of countries in Asia are known for its scorching heat and high humidity. If you're in one of these countries for a holiday, you're in luck because you can cool off in these superb water parks! Water parks are often overshadowed by theme parks and amusement parks, but they really deserve more recognition. Here are the 10 most popular theme parks in Asia-Pacific!
10. The Jungle Water Adventure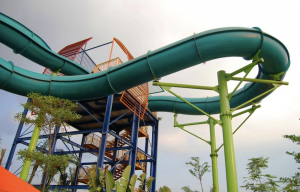 First on our list and coming in at 10th place is The Jungle Water Adventure in Bogor Nirwana Residence, Indonesia. It's a family-friendly water park with 12 exciting rides that are suitable for both adults and kids. If rides aren't your thing, just relax in one of their three pools – there's even a kiddy pool! With an amazing view of Mount Salak and Pangrago as its backdrop, experience the fresh and cool West Java air at this water park.
Location: Bogor, West Java, Indonesia
2017 Attendance: 910,000
9. Sunway Lost World Of Tambun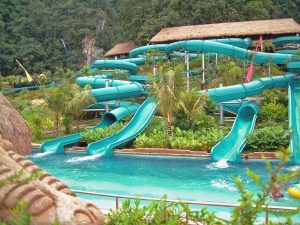 Located in the quaint city of Ipoh, the Lost World Water Park features 6 fun attractions for the whole family. Race down Tube Raider, the longest inflatable tube slide in Malaysia, or drift along Adventure River in a giant tube. Need something a little more thrilling? Experience Cliff Race, a water slide that's designed to get your heart pumping as you race down in maximum speed! Little ones can also enjoy the Kids Explorabay section of the park with water cannons, fountains, tipping buckets and more.
Location: Perak, Malaysia
2017 Attendance: 1,000,000
8. Wet 'n' Wild Gold Coast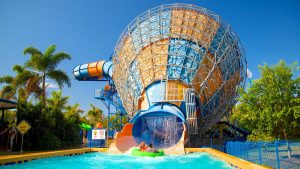 In the land Down Under lies an exhilarating water park – Wet'n'Wild. The number one water park in Australia, it's open all year round, even during winter! Don't worry, all the pools and slides are heated during the winter months. With 16 different attractions at the park, you'll be in for a day of endless fun! This is the ultimate thrillseeker's water theme park, packed with gravity-defying and heart racing slides.
Location: Gold Coast, Australia
2017 Attendance: 1,180,000
7. Shenyang Royal Ocean Park — Water World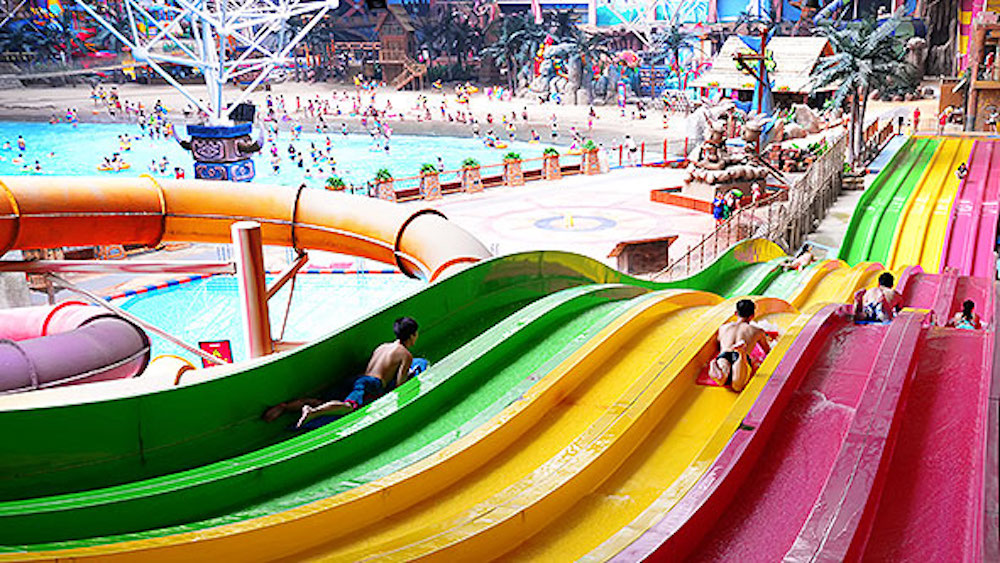 Water World in Shenyang Royal Ocean Park is China's largest indoor water park. It's also home to the largest indoor sand beach in Asia! You don't have to worry about the harsh sun rays or getting sunburnt, just relax and enjoy the shade at Water World. It's a very kid-friendly park with an exclusive parent-child interactive zone that your kids will love.
Location: Fushun, China
2017 Attendance: 1,200,000
6. Wuhu Fantawild Water Park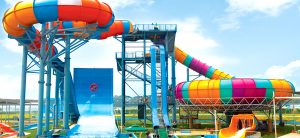 The 6th spot features another one of China's many water parks. Wuhu Fantawild Water Park is the largest water park in East China. With seven thrilling attractions, it's a water adventure you don't want to miss! Enjoy a day of fun and joy with your family as you experience the many rides this park has to offer.
Location: Wuhu, China
2017 Attendance: 1,204,000
4. Sunway Lagoon / Kaifeng Yinji Water Park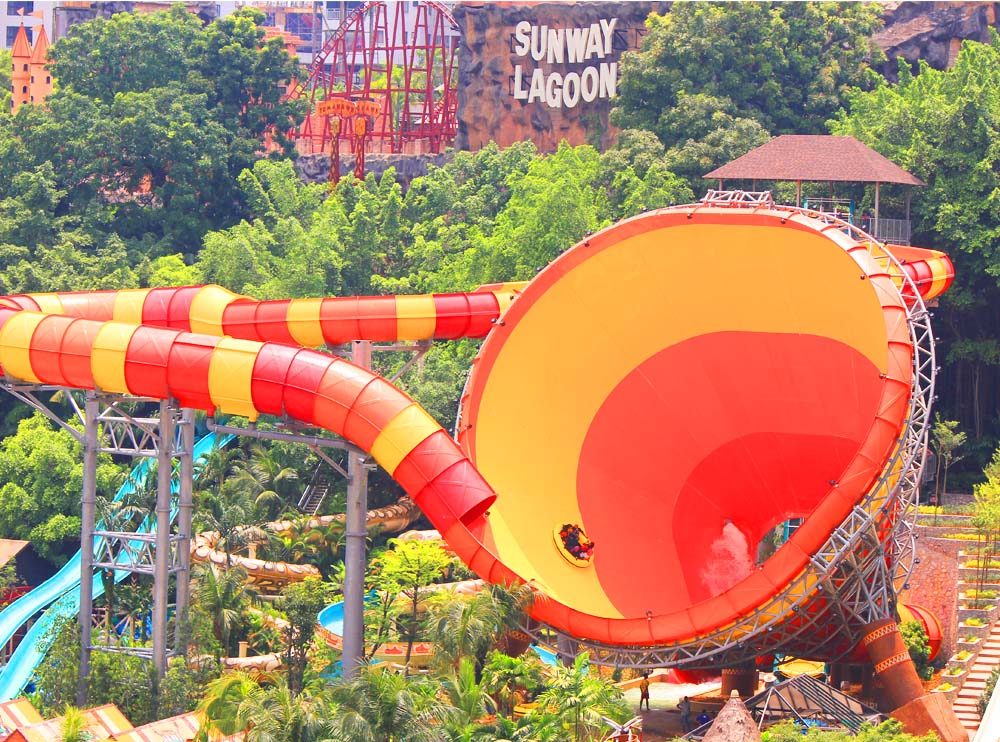 Tied at fourth place, we have Sunway Lagoon in Malaysia and Kaifeng Yinji Water Park in China. Both water parks draw a crowd of 1.3 million visitors annually. One of the highlights at Sunway Lagoon is the Nickelodeon Lost Lagoon, Asia's first Nickelodeon-themed land. The water park and Lost Lagoon combined boast an attraction count of over 35! Featuring towering slides with heart-pumping drops, twists and turns, you're up for an exciting adventure at Sunway Lagoon.
Location: Kuala Lumpur, Malaysia
2017 Attendance: 1,300,000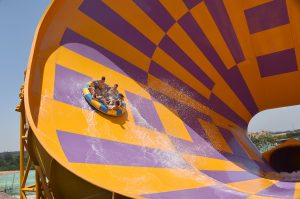 Kaifeng Yinji Water Park is a 42-acre water park featuring unique rides with innovative themes. This outdoor water park offers many action-packed rides including China's first ever Manta waterslide, a Shoot the Chute ride, and many more! Additionally, the park is thoughtfully designed to resemble a realistic underwater world, with intricately crafted sea creatures carved on each ride.
Location: Kaifeng, China
2017 Attendance: 1,300,000
3. Ocean World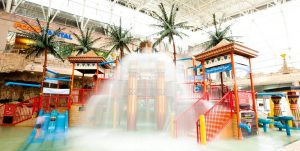 Ocean World is located in a famous tourist attraction in South Korea called Vivaldi Park resort. Tourists usually visit Vivaldi Park for its skiing facilities, but it's also home to the 3rd best water park in Asia-Pacific. Experience the thrill of 2.4-metre waves at the Surf Mount or take a dip in the Extreme River and enjoy the fast currents. Don't forget the popular Monster Blaster, it's the world's first and longest 3-seater tube slide!
Location: Gangwon-do, South Korea
2017 Attendance: 1,330,000
2. Caribbean Bay

Our runner-up is Caribbean Bay, another water park in South Korea. Part of Everland Resort, it's the largest indoor and outdoor water park in the world. About an hour's drive from Seoul, this water park is definitely worth the visit if you're visiting Korea. Discover the longest Lazy River ride in the world, experience the large wave pool, and unwind at the Spa & Sauna after a long day. There's so much to do at Caribbean Bay!
Location: Gyeonggi-do, South Korea
2017 Attendance: 1,380,000
1. Chimelong Water Park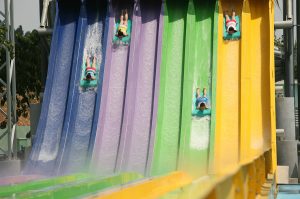 The most visited water park in 2017 is none other than Chimelong Water Park in China. Attracting over 2 million visitors annually, they have twice the number of visitors than our second place contender. Although it's visited by many, the water in the park is clean and safe as it has a state-of-the-art water filtration system in place. Many of the attractions at the park such as the Mini Tornado, Kids' Aqua Plaza, and Glacier Tunnel are just for children. Thrillseekers also get to enjoy rides like the High Speed Slides, Behemoth Bowl, and more. It's a water park that caters to both the tame and the wild.
Location: Guangzhou, China
2017 Attendance: 2,690,000
Beat the Heat with These Top 10 Water Parks in Asia-Pacific