Work stress bogging you down? Want to unwind and kick back while enjoying the sea breeze? Whether you're searching for an island less traveled by or a popular tourist hotspot buzzing with activity, our guide on the beach holidays will do your body and mind a whole world of good. Go on, take a break and start planning your weekend escapade now.
5. El Nido, Palawan, Philippines
A hidden gem among beach destinations, Palawan is often overlooked by travelers for its obscurity. The home to 50 white, pristine beaches, El Nido's impressive formation of limestones is truly a sight for the senses. The water's clarity is so blue that it makes the Caribbean Sea look brown and dull in comparison! Don't even let us get started on the sunsets, as it will spoil you for life.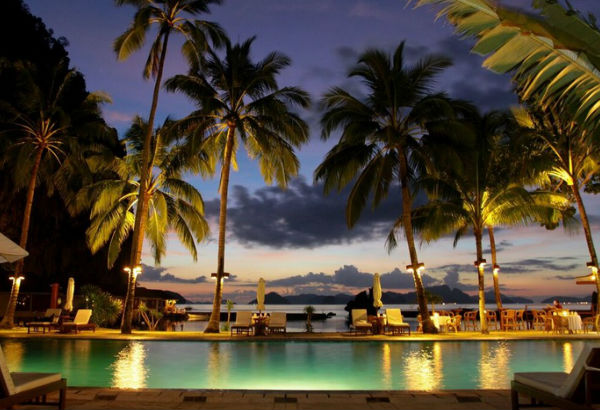 Where To Stay?
El Nido Resorts – Pangulasian Island: Excite the thrill seeker in you with a myriad of scuba courses, breathtaking dive sites, as well as informative tours of secret lagoons and mangroves. Explore to your heart's content with an island of many hidden gems and leave with nothing but memories behind.
4. Seagrass Bay, Laucala Island, Fiji
A hidden gem nestled in the beautiful island of Fiji, visitors will need to take a charter flight to reach Laucala Island. With a radius of 7.5 square miles, this private island utopia is home to the archipelago's rarest birds and animals, immaculate beaches and mesmerizing sea life. Seagrass Bay also provides the calmest ambiance and remains an ideal spot to get away from the bustle of the city.


Where To Stay?
Laucala Island Resort: Your best option remains this resort with its over-the-top trappings and total solitude. With 25 luxury villas all decked out in traditional Fijian decor, enjoy the comforts of your very own private pool. A word of warning though, its steep price point may be beyond the budgets of many, but a stay of sheer opulence awaits, should you be able to afford it.
Also Read: 8 American Cities You Should Visit When You're In The United States
3. Bathsheba Beach, Barbados
Craggy, resolute and less traveled by are just some adjectives used to describe this coastline, where eager surfers and photographers often gather around to catch the best waves. Bathsheba Beach is also famous for its "Soup Bowl" phenomenon that occurs when the waves hit the white sand and rocks to create a spellbinding and welcoming sight.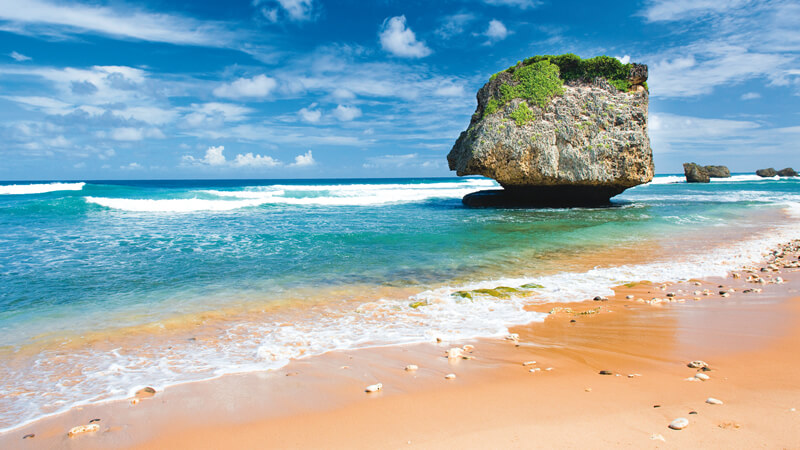 Where To Stay?
Sandy Lane: Your top choice remains Sandy Lane, an iconic resort that closely resembles a Bajan institution, with stylish interior decor in a stunningly realized setting. This grandeur truly has it all, from the Treehouse Club that kids will love, sailing with a chance to watch a beautiful sunset, outdoor movie screenings, and even special themed dinner parties! Not forgetting the youths, there's also an area decked out with foosball, pool tables and a jukebox for a weekend rife with entertainment. Did we mention that there's also a mocktail bar for those that want a refreshing beverage, sans the alcohol.
2. Honokalani Beach, Wai'anapanapa State Park, Maui, Hawaii
With its coal black shoreline, admiral blue, and heavy foliage, Honokalani Beach is truly a shutterbug's dream. Rather than just lazing about on the sand, that's actually comprised of tiny lava stones, there's an abundance of outdoor activities to explore. From its sea caves sculptured along the shore to beachside lava tubes, this is truly Hawaii at its wild best, and also a mandatory stop before heading to Hana.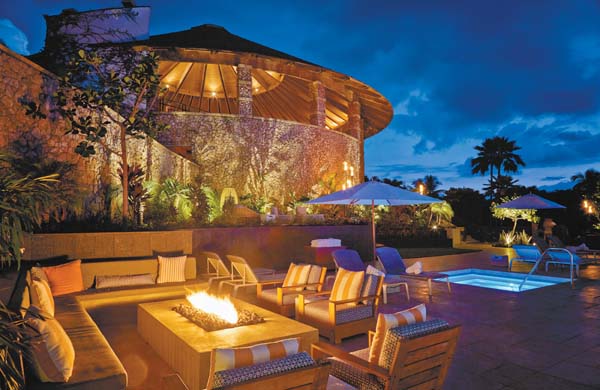 Where To Stay?
Hotel Wailea: is Hawaii's number one resort for a reason. With romantic themes at the forefront, you can bask in 15 wide acres of sheer tropical paradise. A hotel that only accepts adult guests, this abode overlooks three Hawaiian islands for an elegant, ultra-private holiday experience unlike any other. Whether you choose to relax and unwind along the poolside, or kickback in your furnished cabanas while sipping immaculately created cocktails, every moment is but a treat.
1. Maundays Bay, Anguilla
A clear winner on this list, Anguilla is endowed with pristine, clear beaches, immaculate sand and a perfect half moon arc. Despite being a public beach, Anguilla is rarely packed and is often occupied by guests at the Belmond Cap Juluca – recently revitalised after its illustrious peak in the 90s. With minimal waves and uninterrupted sight lines, the beach is also sandwiched by two small breakwaters for optimum safety.

Where To Stay?
Belmond Cap Juluca: The highly revered Belmond Cap Juluca cannot be recommended enough. Where Morocco meets Mykonos, this property is nestled on a white sandy beach on a Caribbean island that's famous for greeting visitors with its haute resorts. Spacious enough to comfortably fit families, couples, but quaint enough to feel like a home away from home. This whitewashed island escapade was recently opened after a whopping $121 million was spent to give it a massive overhaul.
On The Beach Holidays: Top 5 Beaches In The World You Have To Visit